Admin How-To Guide
Viewing And Editing User Data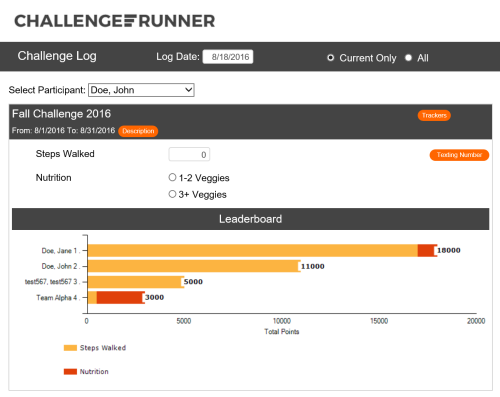 Administrators can have full access to view and edit participant data
Most competitions will require that participants enter their own fitness data; however, it is possible to restrict data entry to only the administrator. Situations also arise that may require that the challenge administrator review and edit participant records.
If permitted, the challenge administrator may use the Challenge Log to view and enter participant data. The Admin will use the Switch to User View button to enter the Challenge Log and then the Select Participant dropdown box to choose the user. By default, the Challenge Log will display any challenges for the current day. You may also view all prior and future challenges by selecting the All option on the title bar. The Log Date can be used to enter data for days in the past even if your challenge prohibits participants from doing this.
How To
Click the Switch to user view button.
Use the Select Participant drop down to select the user whose records you wish to access.
Choose the desired date from the Challenge Log you wish to view or modify from the Log Date calendar.
Enter the data value in the provided text box or option button. Data is saved automatically.
NOTES:
Textboxes are provided for you to enter in numbers while option buttons allow you to select the option that applies.
If the activity has an upper bound such as 15,000 steps walked in one day, then the system will not permit you to enter a number greater than this.
Many activities will require daily entry but some may be for an entire week, month or only once. If that is the case, any date you select from the Log Date during the same week, month, or challenge will have the same data. You can never enter data for future days.
<< Prev
Next >>